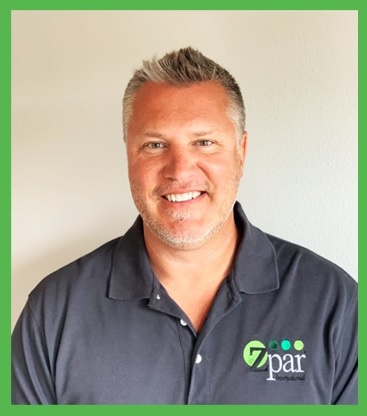 KEITH ZRALKA
Owner & Operator
"If you are looking for a quality product with unmatched customer service, then you have come to the right spot."
Motors: Are Open Drip Proof 3 phase 208-240/480 volt 60hz. unless specified differently.
Spray Booth Dimensions: Are width x depth x height O.D. Inside depth is less nominal fan dimension and 6".
Spray Booth Lighting: All lights are 120-volt fluorescent open type exterior mounted. (less tubes) Lighting may be ordered in vapor tight enclosures. Vapor tight lights are rated as class 1 division 2 hazardous location.
Freight: All items, including each spray booth, are un-crated knocked down, dis-assembled. ZPar International accepts no responsibility for loss and or damages to products shipped from ZPar International unless products are shipped freight prepaid by ZPar International.
Panels: Are 18 ga. galvanized steel with 2" flanges. All flanges are precision punched 6" on center and joined together with nuts and bolts.
Specifications: All specifications, data and prices on this site are subject to change without notice or warning.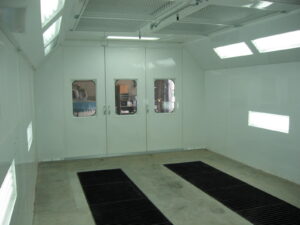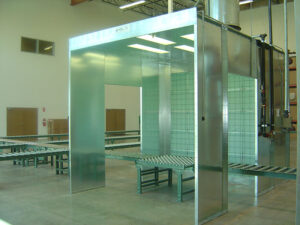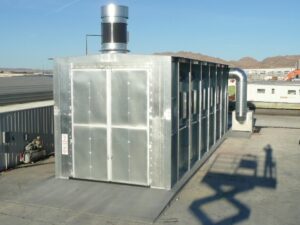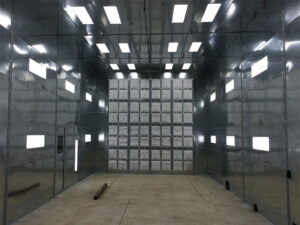 Enclosed spray booths include: Light fixtures, fan, motor, belts, pulley, manometer, intake and exhaust filters, wire grids, door safety latches, caulking, handles, door gaskets, light gaskets, nuts and bolts, hardware and plans.
Open face spray booths include: Light fixtures, fan, motor, belts, pulley, manometer, exhaust filters, wire grids, light gaskets, caulking, nuts and bolts, hardware and plans.
Limitations of liability: Any liability for consequential and incidental damages is expressly disclaimed. ZPar International liability in all events is limited to, and shall not exceed, the replacement price of the part.
Product suitability: Many states and localities have codes and regulations governing sales, construction, installation and/or use of products, including spray booths, for certain purposes, which may vary from those in neighboring areas. While ZPar International attempts to assure that its products comply with such codes, it cannot guarantee compliance and cannot be responsible for how the product is installed or used. Before the purchase and use of a product please review the product application and national and local codes and regulations to be sure that the spray booth product installation and use will comply with them.
Limited Warranty: All products sold are warranted by ZPar International only to purchasers for use in the business of original equipment manufacturing against defects in workmanship or materials under normal use for one year after the date of purchase form ZPar International unless otherwise stated. Any part which is determined by ZPar International to be defective in material or workmanship and returned to ZPar International as ZPar International line designates, freight pre-paid will be as the exclusive remedy repaired or replaced at ZPar International option.