Generally speaking, picking the right air handling system for your spray booth will have a great influence on its operational efficiency over time. To this end, you'll always be spoilt for choices regardless of the exact finishing application you might have in mind. However, your ultimate choice will definitely have a direct impact on the overall consistency and quality of paint job finishes your paint booth can produce over time. Lastly, your choice of air handling system will as well have a direct influence on the operational costs of your facility including those related to ensuring your unit works continuously all year long. Ideally, a spray paint booth air handling system consists of intake filters, exhaust filters, and air makeup units. Each of which plays an important role in ensuring the smooth running of your unit. Let's now examine each of these components more closely.
Paint booth intake filters
Spray paint booth intake filters go to work by cleansing the air which is introduced into the unit. In turn, this substantially eliminates the risk of contamination of paint job finishes through microscopic dust and particles. Typically, the best intake filters for your spray booth will largely be dependent on the exact airflow you eventually settle for. For instance, a crossflow unit necessitates 2-layered takified media panels. Alternatively, high-efficiency diffusion media panels are usually standard for most downdraft booths.
The first option are crafted with 100% synthetic materials, and feature tack layers that enable them to effectively trap dirt particles. They as well possess a decreased resistance to airflow which will help you in keeping energy costs of operating your paint booth low. On the other hand, high-efficiency diffusion intake filters are crafted to deliver optimum levels of spray paint booth filtration performance.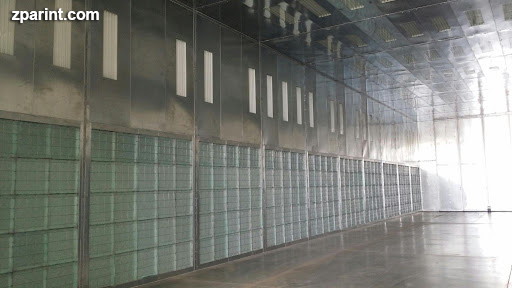 Paint booth exhaust filters
Ideally, spray booth exhaust filters are designed to trap overspray as well other contaminants to prevent the contamination of paint job finishes. They are also critical in ensuring the safety of your paint operators while they perform their duties within your unit. Lastly, the best paint booth exhaust filters made available in the market play a critical role in protecting the environment against toxic overspray and other contaminants. In most booths, the air exhaust system uses a single-stage filtration process as opposed to the dual-stage filtration common with air intake systems.
Some of the most notable exhaust filters you could pick for your spray paint booth include fiberglass paint arrestor media, synthetic paint arrestors, mesh paper paint arrestors, extended surface cube filters to name but a few. The first variety is noted for lasting up to 5 times longer when contrasted with the poly, mesh media, and fiberglass sorts. While extended surface cube paint booth exhaust filters are acclaimed for their superior dust-holding capacity and efficiency, and are a must for certain finishing applications.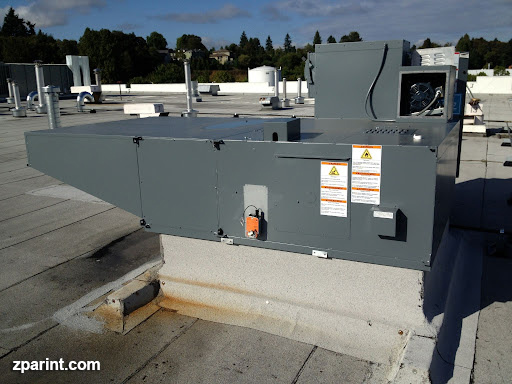 Paint booth air makeup units
Spray paint booth air makeup units are designed to deliver an affordable source of air replenishment in a unit and come complete with heaters, motors, blowers, filters along with other auxiliary components. Depending on the exact layout and size of your spray booth, you ultimately select the ideal air makeup unit for you should deliver a suitable volume and flow of air. In turn, this will go a long way in significantly eliminating issues such as drafts and stale or contaminated air within your unit.
. It will as well help in enabling you to maintain a more consistent air temperature within it. Typically, the finest air makeup units out there can replenish equal amounts of fresh air for each cubic foot of expelled air. There are 2 main options you may pick when it comes to a paint booth air makeup unit, which are the direct-fired and the indirect-fire varieties.
The first sets work by passing the air introduced in a booth directly over a naked flame. Alternatively, in indirect-fired air makeup units, air is never passed directly over the flame. Rather, heat is produced in isolated chambers and with the aid of a heat exchanger, the temperature introduced to the spray paint booth is elevated. Each of these kinds of air makeup units comes with a set of pros and cons. First of all, the direct-fire varieties are known for their unparalleled low upfront cost since they may function without the need for heat exchangers. They are also renowned for their efficiency as they waste less energy to be able to achieve the desired rise in a spray booth temperature. Finally, direct-fired air makeup units tend to weigh considerably less than the indirect fire kinds, and are therefore an excellent solution for roof-mounting.
Indirect-fired air makeup units are well noted for their capability to avoid introducing potential combustion contaminants into the airstream of a paint booth which can mar paint job finishes. Additionally, they are known for their ability to operate at peak performance without necessitating large volumes of airflow. For example, most direct-fired air makeup units in the market cannot operate at a capacity of lower than 20% unlike the indirect-fire spray paint booth models that will perform at peak capacity even at lower percentages.
ZPar International provides top-notch spray booth air handling component solutions as well as a variety of paint booth options for virtually any painting application you might have in mind.
For more information on ZPar air handling systems, please visit