The paint booth market is currently awash with a variety of options when it comes to size. This makes it somewhat difficult to effectively zero in on the right product for your unique needs and preferences. However, it is important to note that every spray booth design is meant to specifically suit a specific need or application. To begin with, the numerous options available in terms of size are there to meet the need to properly accommodate the varying sizes of the objects that are painted in them. They are also there to comprehensively accommodate the unique size of different parts, part orientation, and even the different tooling interfaces needed in a spray paint booth setup. Also, the size of a unit often determines just how many of your operators may work simultaneously at any given time. Besides this, there are other critical factors you should consider before you settle for any paint booth size.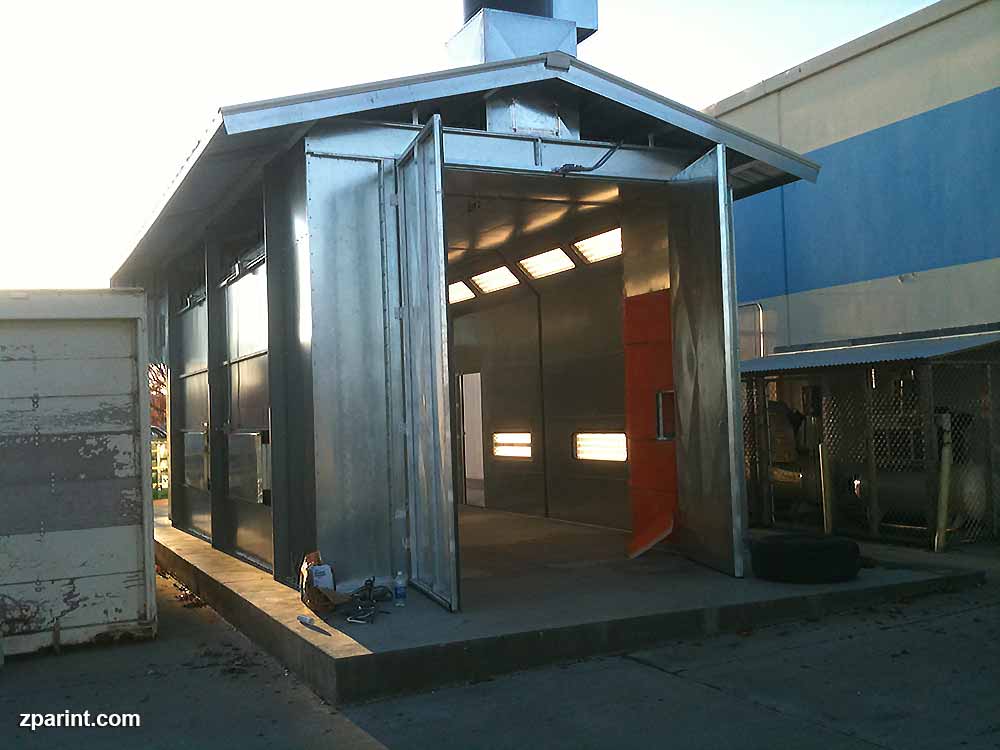 Key factors that influence paint booth sizing
In the first place, the size of these products can prove to have a significant impact on their operational costs. To this end, the bigger the dimensions of a unit are, the more intake and exhaust air will have to be forced through it. As such, a crossflow booth's airflow design can need a 10×10 cross section for proper airflow. Alternatively, a downdraft unit will require a 20×10 cross section for air to flow in it and ultimately vented out appropriately. This definitely means the latter solution will need two times more intake and exhaust airflow which increases its overall operational costs. On the other hand, you may be forced to pick a certain spray booth size for safety purposes.
While smaller units tend to keep operational costs lower, undersized booths don't come with sufficient filters to efficiently eliminate overspray and other contaminants. This often results in the exterior surroundings of a unit being contaminated. In this particular scenario, you will be forced to spend more for cleanup operations which can exceed the savings you make on operational costs when you opt for a small unit.
The size of a spray paint booth will have a substantial influence on the overall quality of its paint job finish. For example, should producing consistent high-quality finishes be a major priority for your facility, you might settle for the larger downdraft unit as opposed to the more compact cross flow unit. On the flip side, the exact orientation of the products you finish in your shop may as well have an impact on the ideal dimensions for a booth. For instance, a 5-foot x 10-foot x 5-foot part will present a larger dimension of 5-foot x 5-foot x 10-foot when it is appropriately oriented for painting.
Lastly, you should also take into consideration your facility's future needs besides the current ones when you are choosing the right paint booth size for you. An operationally effective unit's size must factor in its capability to deliver continuous service for the years to come. Depending on factors like the proper tooling and orientation, a new part's size that is only two feet longer than the older one might make it impossible for it to be finished in the same unit. Additionally, a significant increase in your shop's production rates might make your spray booth redundant if you hadn't taken this factor in mind when you first designed it.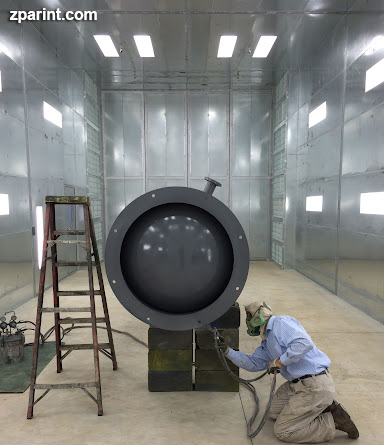 Industrial paint booth sizing
As with other types of spray paint booth applications out there, when you're considering the suitable size of an industrial unit, you will first need to determine the exact sizes of the products that will be finished in it. This will ensure there is always sufficient space as well as proper airflow in the unit. Generally speaking, the best practice in choosing the size of an industrial paint booth is figuring out the exact dimensions of the biggest object to be painted, and afterward adding no less than 2 feet to its height, 5 feet to its width, and 6 feet to its depth. You will as well have to factor in the various dimensions of equipment like pallets, carts, and racks. Finally, if your operators finish multiple parts simultaneously, you will need to incorporate at least 3 feet of empty space in between the objects that will be finished.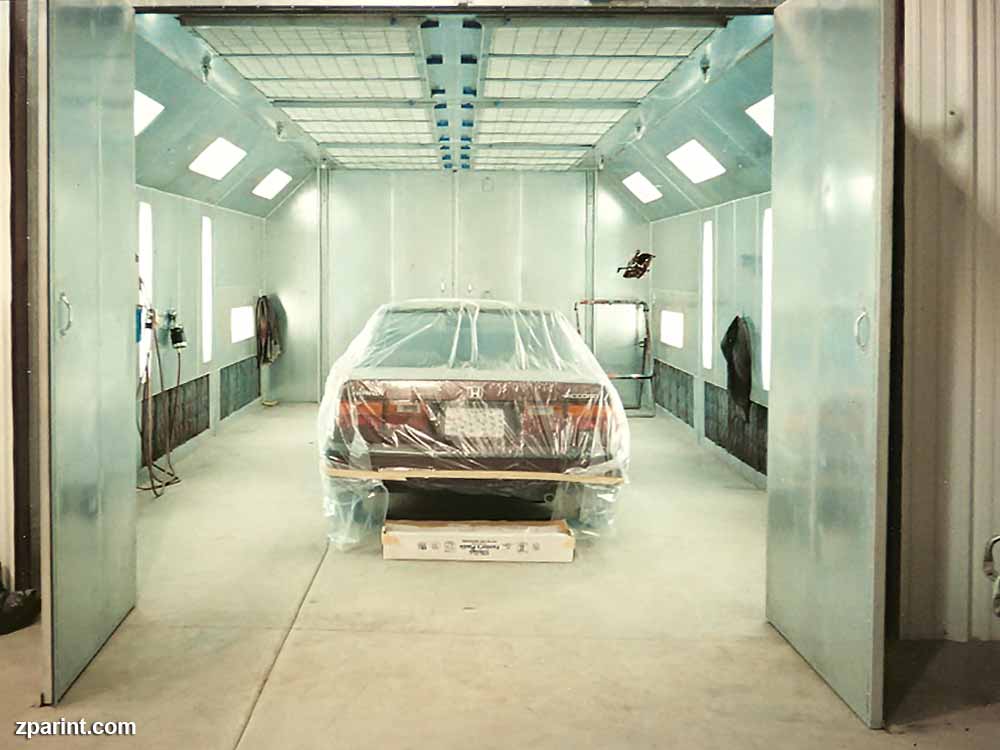 Automotive paint booth sizing
Typically, the size of an automotive spray booth tends to be much more standardized when compared to other applications. The average automotive unit comes complete with a length of between 24 to 30 feet, a width of 14 feet, and a height of 9 feet. You may settle for a higher height if you wish your spray paint booth to be used in finishing taller vehicles. Lastly, you will have to ensure your unit dimensions fits the range of ETL listed sizes to guarantee code compliance over time.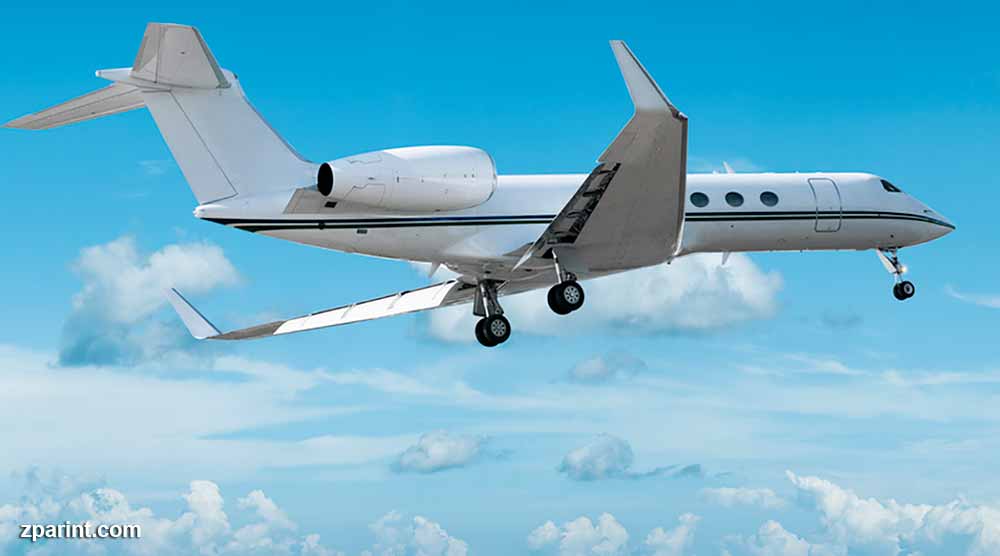 Aviation paint booth sizing
For an aircraft paint booth, you will need to figure out the exact dimensions of the biggest aircraft that will be finished in your facility, and then add no less than 10 feet on all sides for proper clearance. You should as well factor in extra space to enable your spray booth to comfortably accommodate essential equipment like scaffolding and personnel lifts. 
Wherever possible, you may design the walls and ceiling of your aviation unit to conform to the shape of the aircraft you process. In turn, this will deliver considerable cost savings on capital equipment. Not to mention reductions in operational costs due to the smaller amounts of airflow that will be needed in the unit.
ZPar International is a leading manufacturer of top-quality paint booths in the country, and our expertise can be of great use to you when it comes to determining the best size for your spray booth regardless of the application you have in mind. For more details about our spray paint booth offerings, visit us here